About BPNA
Learn more about BPNA's mission and download important documents
What is Berkner Park Neighborhood Association?
The Berkner Park Neighborhood Association endeavors to promote a safe and attractive community, to create lines of communication with the City, to bring residents together to preserve and enhance the value of our neighborhood and to build a feeling of community among our neighbors.
WHAT WE ARE – A NEIGHBORHOOD ASSOCIATION (NA)
A Neighborhood Association (NA) is a group of residents or property owners who advocate for or organize community activities within a neighborhood. A neighborhood association may have elected leaders but membership and dues are voluntary.
WHAT WE ARE NOT – A HOMEOWNER'S ASSOCIATION (HOA)
A Homeowner's Association (HOA) membership is mandatory generally through rules tied to the ownership of property like deed restrictions. HOAs often own and maintain common property, such as recreational facilities, parks, and roads.
Berkner Park Neighborhood Association's Physical Boundaries
Defined to be the area bounded Buckingham Road to the south; S. Plano Road to the west; E. Belt Line Road to the north; and S. Jupiter Road to the east. The Association excludes the area bordered by S. Plano Road, E. Spring Valley Road, S. St. Johns Drive and Potomac Drive known as the Marlborough Square Neighborhood.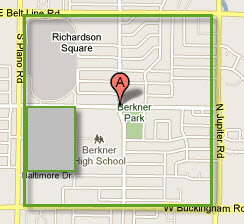 Bylaws and Reference
Agendas and Minutes
2015

March Meeting Minutes
September Meeting Minutes

 2014
2013
2012
Financials available upon request